Jimmy Donaldson (born: May 7, 1998 (1998-05-07) [age 24]), commonly known on the internet as his YouTube channel name, MrBeast (formerly MrBeast6000), is an American YouTuber currently residing in Raleigh, North Carolina. He is known for doing a wide variety of expensive challenge videos that reward thousands of dollars, donation videos involving a lot of money, videos either with arduous tasks or survival, original vlogging videos, and more.
He started the channel in 2012 at the age of 13. He was initially known for uploading the "Worst Intros" series, a series of videos where he reviewed small pre-teen YouTubers with funny or "bad" intros. Over the years, as he gained more sponsor money, he became a lot more generous and helpful to others.
With unrelenting passion and devotion to finishing arduous, yet creative, challenges, Jimmy has become an extremely popular YouTuber in recent years, and one of the most subscribed non-corporate YouTube channels, having reached the 60 million subscribers milestone as of April 2021. His main channel is the 23rd most subscribed channel in the world and the 10th most subscribed channel in the United States.[1][2] With the exclusion of children-oriented channels, corportation channels, and channels of music artists, MrBeast is the second most subscribed YouTuber, only behind PewDiePie.
Personality
Jimmy is particularly generous and kind, as shown by his donations and giveaways. He's also humble, as he doesn't flaunt his money; He funds lots of money towards good causes and hasn't shown buying expensive things for himself. He has a very polite personality, except with his friends, where he is more laid back and energetic.
Early life
Not much is known about Jimmy's childhood, except that he has two brothers, a sister and it appears that Jimmy doesn't have any contact with his biological father. Before he started MrBeast6000, he had a now-deleted channel called Beast5ty. He started his new YouTube channel at the age of thirteen, under the name "MrBeast6000."
YouTube Career
Jimmy officially started his YouTube channel on February 19, 2012. He first started uploading gaming videos, and the first video game that he recorded was Minecraft. After a year, Jimmy started recording other games such as Pokemon Online, Black Ops 2, and Battle Pirates. He also started his first series where he talks about how much each YouTuber earns, the first being PewDiePie.
After two years, Jimmy stopped making gaming videos and started to make discussion videos, where he would discuss many random topics that he wanted to. On April 18, 2015, Jimmy officially had 2,000 people subscribed on his channel, which led to him deciding to make a video about it, being grateful for the success.
In 2016, he used to make a series called "Worst Intros" which involved him laughing at lower quality intros, but these videos are now deleted because he shifted his content to challenges in 2016-2017, then stunts that allow him to grow in popularity, mainly because of both his generosity and original type of content.
As the years go by, the videos started involving bigger challenges and bigger prizes. At one point, with the increase of content and channels made by MrBeast (gaming videos in 2020, reaction videos in 2021, philanthropy videos also in 2021), MrBeast went from an independent YouTuber with a few friends to a whole production company, registered as MrBeast LLC, featuring around 50 employees who were shown on camera and presumably around 50 more off-camera, all of them getting highly paid to work on MrBeast's videos for a living and with Jimmy being the CEO of the company. Other than cameramen and editors, they also have ADR tech, logistic techs, producers, two accountants, a lawyer, admin staff, a personal bodyguard, a business manager, a talent manager, medical professionals for challenges, and construction workers that build his sets.
Channels
Beast Reacts

MrBeast made a second channel for watching and reviewing lifehacks called Beast Reacts. This channel mostly stars his friends, but he has appeared on it multiple times.
The Beast Reacts channel was originally called Mr.Beast. He later changed it to its current name so it could be searched for easier.
In March 2021, the profile picture was changed to resemble the icon of the gaming channel, except with the main color being pink instead of blue. On March 21, 2021, MrBeast revived the channel and uploaded Water Balloons in Slow Motion!.
MrBeast Gaming

In April 2020, he started a gaming channel named MrBeast Gaming, releasing 2 to 3 videos every week. It has 11.3 million subscribers as of December 2020, making it one of the fastest-growing channels in terms of subscriber count. It acts as a successor to his older gaming videos on his main channel. MrBeast's friends Chris, Chandler, and Karl, usually appear in these videos. The game that is mainly played on this channel is Minecraft, but the crew plays other games like Grand Theft Auto V, Among Us, Fall Guys, and more.
MrBeast Shorts
Jimmy also has a MrBeast Shorts channel where he uploads vertical clips that last less than a minute. These clips show him and his friends doing random things. These types of videos are shown in the "Short Videos" panel.
MrBeast 2

It is an alternative channel of MrBeast for miscellaneous videos. This channel only has the MrBeast Riddle and a live stream of him signing shirts for 6 hours straight.
Beast Philanthropy

Beast Philanthropy is a channel where all ad revenue, merchandise sales and sponsorships will go towards a food bank.
Don't Subscribe

Along with UK YouTuber JackSucksAtLife he created the channel Don't Subscribe. He gives ten cents to Jack for every subscriber. The challenge is up to 1,000,000 subscribers or $100,000.[3] Although there is no videos on the channel, Jack has made a lot of videos promoting the channel.
See Also Don't Subscribe promotional videos
MrBeast Extra

Jimmy uploaded the second $200,000 Youtuber Battle Royale video on this channel.
Income & Spending
Currently, he has an estimated net worth of around 25+ million dollars (currently; number may vary). In many of his videos, he budgets hundreds and thousands of dollars, but of course, it depends on the video, like if he is buying something expensive, donating a lot of money to people, or hosting a challenge with his friends; it all requires a large amount of money. According to a Colin and Samir interview, he and his team have spent a total of $50 million a year investing in his videos and this number tends to increase as MrBeast receives more popularity. Moreover, a MrBeast staff member confirmed that in the more recent videos of the main channel, they spend around $350,000 to a million dollars per video.[4] He has several sources of income: he generates money from the advertisements that can be found on his YouTube videos on his main and gaming channels, he also gains money from sponsors (Quidd, Honey, etc.) as well as merchandise from ShopMrBeast, he is gaining a bit of extra income from MrBeast Burger.
Involvement in PewDiePie vs T-Series
Advertising PewDiePie
On October 24, 2018, Jimmy made a video called, I Bought Every Billboard in my City to do this. In the video, Jimmy used multiple billboards around his city to advertise PewDiePie and to prevent a music company, T-Series, from surpassing PewDiePie in subscribers. Additionally, Jimmy created online ads to advertise PewDiePie that, when clicked, redirects to PewDiePie's channel.
Jimmy also advertised PewDiePie on public posts, newspapers, and the radio, the PewDiePie advertisements have garnered significant attention locally and globally, causing PewDiePie's channel to grow at a faster rate than T-Series. T-Series was approximately less than 100,000 subscribers away from becoming the most subscribed channel up until the release of Jimmy's video, which temporarily halted the channel's growth. Likewise, Jimmy's channel had also gained exponential growth off of the video and the advertisement, which he had mentioned himself on multiple occasions.
Saying PewDiePie 100,000 Times
Even after Jimmy advertised PewDiePie with billboards, it did not stop T-Series from slowing down from PewDiePie longer. T-Series was approximately 90,000 subscribers away from surpassing PewDiePie before Jimmy made another video to keep PewDiePie #1 most subscribed. On November 25, 2018, Jimmy says PewDiePie 100,000 times. At the start of the video, Jimmy tells his fans and new-comers to subscribe to PewDiePie and to help him win the war. The subscriber growth was given to PewDiePie once again, gaining 244,000 subscribers the day of Jimmy's upload, and 247,000 subscribers the next day. Jimmy also gained major exposure from the video and gained 181,000 subscribers on the day of its upload, which is Jimmy's fastest growth in terms of subscribers in the past 24 hours. Jimmy also gained 151,000 subscribers the next day.
Surrender
Even after Jimmy helped out PewDiePie, PewDiePie made a tweet, It looks like this is it boys. with a picture of a text saying Dawn of The Final Day 24 Hours Remain, in which PewDiePie now surrenders his #1 most subscribed title, as T-Series growth had not stopped. Jimmy also made a tweet responding to PewDiePie saying It was an honor fighting by your side, in which Jimmy gives up and can no longer help PewDiePie further, possibly to prevent lack of PewDiePie videos from Jimmy, as it can get weaker along the way.[5]
Advertising PewDiePie at the Super Bowl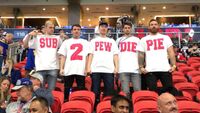 On February 3, Jimmy and his affiliates made plans to try and advertise fellow YouTuber PewDiePie's channel while attending Super Bowl LIII (53). To do so, Jimmy bought seats next to one of the end zones, with him and his affiliates wearing shirts ultimately spelling out "SUB 2 PEWDIEPIE" to be seen during one of the field goals. The attempt was broadcasted on live television, with approximately 110 million viewers watching the game. ESPN later tweeted a picture of one of the field goals, subsequently featuring Jimmy's ad.[6] Afterward, PewDiePie's growth grew from 50,000 subscribers to 277,000 subscribers in a single day.
Expensive Challenges
Projects
TeamTrees – Planting 20 Million Trees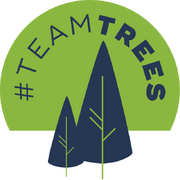 Team Trees, also known as #teamtrees, is a collaborative fundraiser that managed to raise 20 million U.S. dollars before 2020 to plant 20 million trees. This initiative was founded by MrBeast and Mark Rober and it was supported by a large part of the YouTube community as a whole, including some YouTube personalities.
All donations go to the Arbor Day Foundation, a tree-planting organization that pledges to plant one tree for every U.S. dollar donated. The Arbor Day Foundation planned to begin planting in January 2020 and end "no later than December 2022".
It is estimated that 20 million trees would take up 180 square kilometers (69 square miles) of land, absorb around 1.6 million tons of carbon and remove 116 thousand tons of chemical air pollution from the atmosphere.
MrBeast Burger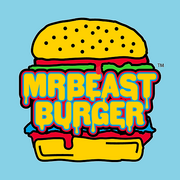 MrBeast Burger is an online delivery only fast-food chain and restaurant brand created by Jimmy Donaldson. This restaurant, temporarily opened physically in only one location, is the key setting and location for the video "I Opened A Restaurant That Pays You To Eat At It".
In a November 2020 article with The Wake Weekly, Will Hyde, a producer of the MrBeast channel, announced that Jimmy would launch a virtual restaurant called "MrBeast Burger" in December 2020. Hyde said his team worked with the company "Virtual Dining Concepts" during the development of the virtual restaurant concept. MrBeast Burger then serves the burgers to restaurants across the United States and customers will be able to order the burgers via online delivery services.
On December 19, 2020, the MrBeast Burger application for Android and iOS devices was developed for ordering food from there only by delivery. For now, the MrBeast Burger deliveries are only available in 300 locations in the United States and not internationally, but there are plans to allow these deliveries to happen internationally in the future.
MrBeast's 2020 YouTube Rewind
On November 17, 2020, MrBeast announced that he was going to make his own YouTube Rewind due to YouTube cancelling their annual Rewind that year. MrBeast also said that if other YouTubers wanted to come and help, they could reply to him on Twitter. After 1 month, MrBeast released his own YouTube Rewind on January 1, 2021, titled "Youtube Rewind 2020, Thank God It's Over".
It featured many notable YouTubers giving their thoughts about what should be in MrBeast's Rewind, and their thoughts about the worst events of 2020. In addition, there were tributes to some celebrities who passed away in 2020, such as Kobe Bryant, Chadwick Boseman, Ruth Bader Ginsburg, and Alex Trebek. There was also a so-called "face reveal" which had been teased by Dream on his Twitter prior to the release of the Rewind, though his face was not shown, instead being hidden under a mask.
Creators featured in the Rewind
---
Awards and nominations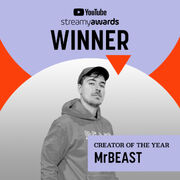 Year
Ceremony
Category
Result
2019
9th Streamy Awards
Breakout Creator
Won
Ensemble Cast
Nominated
Creator of the Year
Nominated
2020
12th Annual Shorty Awards
YouTuber of the Year
Won
10th Streamy Awards
Creator of the Year
Won
Live Special
Won
Social Good: Creator
Won
Social Good: Nonprofit or NGO
Won
Sponsors
Quidd
Quidd has often sponsored Jimmy for him to do his expensive videos, which often helped him gain a majority of his growth. Because of Quidd, Jimmy made the longest Uber Ride (which was 2,256 miles from North Carolina to California) and Tipping Pizza Delivery Guys $10,000. All of the money Jimmy had used in making those videos was from Quidd. Quidd also helped him make Donating $10,000 To Random Twitch Streamers, Giving Homeless People $1,000 (Not Clickbait), and 'Giving A Random Homeless Man $10,000', all gaining astonishing amounts of views.
Honey
Honey is a browser extension that automatically finds and applies coupon codes at checkout and saves money for the customer. Jimmy frequently advertises Honey in his videos and has also become an active advertiser for Honey on YouTube videos for monetized content creators. Honey has helped Jimmy with many videos for example when he did Last To Take Hand Off $1,000,000 Keeps It. Ads for Honey with Jimmy in it or on it have become very common.
See Also 20 Questions with MrBeast Honey Originals
Apex Legends
Apex Legends is a battle royale game that sponsored Jimmy for $200,000 to make "$200,000 Youtuber Battle Royale". They also sponsored the video "Donating $100,000 To Shroud In Real Life" to donate for every kill they got.
Dragon City
Dragon City is a game where one collects, battles, and levels up dragons. For a promotion with the game, Jimmy made the videos, "Giving $100,000 To A Homeless Person" and "$70,000 Extreme Hide And Seek - Challenge". Because of these sponsorships, Dragon City created two MrBeast-styled dragons for players to use in-game. The dragons are modeled after his current YouTube logo.
TikTok
TikTok is a video-sharing social networking service that sponsored Jimmy in the video "You Pick The Right Cup, You Win $100,000!" as well as "Giving Friend One Hour To Spend $100,000 Challenge".
Milestones
Subscriber Milestones
MrBeast
300 subscribers: August 2, 2013
1,500 subscribers: August 9, 2014
2,000 subscribers: April 19, 2015
3,000 subscribers: July 19, 2015
4,000 subscribers: July 29, 2015
5,000 subscribers: August 11, 2015
7,000 subscribers: September 9, 2015
9,000 subscribers: October 11, 2015
10,000 subscribers: October 28, 2015
15,000 subscribers: December 25, 2015
20,000 subscribers: March 7, 2016
200,000 subscribers: September 26, 2016
1 million subscribers: May 6, 2017
2 million subscribers: December 29, 2017
9 million subscribers: October 25, 2018
11 million subscribers: November 25, 2018
12 million subscribers: December 8, 2018
13 million subscribers: December 22, 2018
14 million subscribers: January 19, 2019
15 million subscribers: February 15, 2019
16 million subscribers: March 16, 2019
17 million subscribers: April 13, 2019
18 million subscribers: May 4, 2019
19 million subscribers: May 21, 2019
20 million subscribers: June 8, 2019
21 million subscribers: June 23, 2019
22 million subscribers: July 27, 2019
23 million subscribers: August 22, 2019
24 million subscribers: September 6, 2019
25 million subscribers: October 25, 2019
26 million subscribers: November 15, 2019
27 million subscribers: December 11, 2019
28 million subscribers: December 25, 2019
29 million subscribers: January 25, 2020
30 million subscribers: February 14, 2020
31 million subscribers: February 28, 2020
32 million subscribers: March 12, 2020
33 million subscribers: March 24, 2020
34 million subscribers: April 14, 2020
35 million subscribers: May 18, 2020
36 million subscribers: June 4, 2020
37 million subscribers: June 15, 2020
38 million subscribers: July 5, 2020
39 million subscribers: July 23, 2020
41 million subscribers: August 15, 2020
42 million subscribers: August 23, 2020
43 million subscribers: September 14, 2020
44 million subscribers: September 28, 2020
45 million subscribers: October 17, 2020
46 million subscribers: November 6, 2020
47 million subscribers: December 2, 2020
48 million subscribers: December 18, 2020
49 million subscribers: December 26, 2020
50 million subscribers: January 3, 2021
51 million subscribers: January 13, 2021
52 million subscribers: January 24, 2021
53 million subscribers: February 12, 2021
54 million subscribers: February 22, 2021
55 million subscribers: March 12, 2021
56 million subscribers: March 27, 2021
57 million subscribers: March 30, 2021
58 million subscribers: April 3, 2021
60 million subscribers: April 18, 2021
61 million subscribers: April 27, 2021
MrBeast Gaming
1 million subscribers: May 24, 2020
2 million subscribers: June 19, 2020
3 million subscribers: July 5, 2020
4 million subscribers: July 16, 2020
5 million subscribers: August 7, 2020
6 million subscribers: August 16, 2020
7 million subscribers: August 26, 2020
8 million subscribers: September 22, 2020
9 million subscribers: October 9, 2020
10 million subscribers: October 31, 2020
11 million subscribers: December 7, 2020
12 million subscribers: December 30, 2020
13 million subscribers: January 7, 2021
14 million subscribers: January 29, 2021
15 million subscribers: February 28, 2021
16 million subscribers: March 31, 2021
17 million subscribers: April 18, 2021
Beast Reacts
1 million subscribers: February 10, 2019
2 million subscribers: August 15, 2019
3 million subscribers: August 5, 2020
4 million subscribers: January 12, 2021
5 million subscribers: March 29, 2021
MrBeast 2
1 million subscribers: September 17, 2020
2 million subscribers: March 10, 2021
MrBeast Shorts
1 million subscribers: September 19, 2020
2 million subscribers: November 9, 2020
3 million subscribers: January 8, 2021
4 million subscribers: January 29, 2021
5 million subscribers: March 3, 2021
6 million subscribers: April 13, 2021
Beast Philanthropy
1 million subscribers: January 10, 2021
2 million subscribers: March 28, 2021
3 million subscribers: April 17, 2021
Video View Milestones
MrBeast
1 billion views: October 7, 2018

1.1 billion views: October 26, 2018
1.2 billion views: November 7, 2018
1.3 billion views: November 23, 2018
1.4 billion views: December 3, 2018
1.5 billion views: December 13, 2018
1.6 billion views: December 26, 2018
1.7 billion views: January 13, 2019
1.8 billion views: January 29, 2019
1.9 billion views: February 11, 2019

2 billion views: February 28, 2019

2.1 billion views: March 17, 2019
2.2 billion views: April 4, 2019
2.3 billion views: April 20, 2019
2.4 billion views: May 1, 2019
2.5 billion views: May 17, 2019
2.6 billion views: May 29, 2019
2.7 billion views: June 8, 2019
2.8 billion views: June 14, 2019, & July 4, 2019
2.9 billion views: June 24, 2019, & July 14, 2019

3 billion views: August 4, 2019

3.1 billion views: August 16, 2019
3.2 billion views: August 23, 2019
3.3 billion views: August 30, 2019
3.4 billion views: September 12, 2019
3.5 billion views: September 30, 2019
3.6 billion views: October 20, 2019
3.7 billion views: October 30, 2019
3.8 billion views: November 11, 2019
3.9 billion views: November 21, 2019

4 billion views: December 2, 2019

4.1 billion views: December 10, 2019
4.2 billion views: December 21, 2019
4.3 billion views: December 29, 2019
4.4 billion views: January 13, 2020
4.5 billion views: January 27, 2020
4.6 billion views: February 6, 2020
4.7 billion views: February 16, 2020
4.8 billion views: March 7, 2020
4.9 billion views: March 15, 2020

5 billion views: March 24, 2020

5.1 billion views: April 4, 2020
5.2 billion views: April 17, 2020
5.3 billion views: April 29, 2020
5.4 billion views: May 11, 2020
5.5 billion views: May 24, 2020
5.6 billion views: May 31, 2020
5.7 billion views: June 5, 2020
5.8 billion views: June 10, 2020
5.9 billion views: June 16, 2020

6 billion views: June 24, 2020

6.1 billion views: July 4, 2020
6.2 billion views: July 10, 2020
6.3 billion views: July 18, 2020
6.4 billion views: July 27, 2020
6.5 billion views: August 3, 2020
6.6 billion views: August 9, 2020
6.7 billion views: August 14, 2020
6.8 billion views: August 18, 2020
6.9 billion views: August 24, 2020

7 billion views: September 3, 2020

7.1 billion views: September 16, 2020
7.2 billion views: September 22, 2020
7.3 billion views: September 30, 2020
7.4 billion views: October 8, 2020
7.5 billion views: October 15, 2020
7.6 billion views: October 24, 2020
7.7 billion views: October 31, 2020
7.8 billion views: November 13, 2020
7.9 billion views: November 22, 2020

8 billion views: November 30, 2020

8.1 billion views: December 11, 2020
8.2 billion views: December 19, 2020
8.3 billion views: December 23, 2020
8.4 billion views: December 29, 2020
8.5 billion views: January 3, 2021
8.6 billion views: January 9, 2021
8.8 billion views: January 20, 2021
8.9 billion views: January 26, 2021

9 billion views: February 4, 2021

9.1 billion views: February 14, 2021
9.2 billion views: February 24, 2021
9.3 billion views: March 7, 2021
9.4 billion views: March 14, 2021
9.5 billion views: March 19, 2021
9.6 billion views: March 27, 2021
9.7 billion views: March 30, 2021
9.8 billion views: April 2, 2021
9.9 billion views: April 5, 2021
10 billion views: April 10, 2021

10.1 billion views: April 13, 2021
MrBeast Gaming
1 billion views: November 26, 2020

1.1 billion views: December 8, 2020
1.2 billion views: December 23, 2020
1.3 billion views: January 6, 2021
1.4 billion views: January 21, 2021
1.5 billion views: February 4, 2021
1.6 billion views: February 16, 2021
1.7 billion views: March 3, 2021
1.8 billion views: March 21, 2021
1.9 billion views: April 1, 2021
2 billion views: April 9, 2021
Quotes
Trivia
References