WELCOME
Welcome to the MrBeast Wiki, an encyclopedic resource of everything about MrBeast that anybody can edit! This wiki includes documentation on MrBeast along with his crew members, affiliates, YouTubers he collaborated with, projects, video plot summaries, challenge results, and more! Founded by DarkUnknownWarrior on February 13, 2018, then adopted by JustLeafy on October 2, 2020.
Note that we are not endorsed with MrBeast or any affiliates. Also, pages for MrBeast's videos, especially the ones that are expensive challenges, contain results and spoilers, so read at your own risk. Moreover, some articles (in particular, the ones about MrBeast's old videos) may contain strong or inappropriate language that is not suitable for younger viewers.
WHO IS MRBEAST?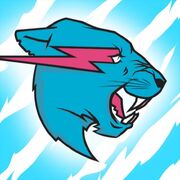 Jimmy Donaldson
(born: May 7, 1998 ), mainly known by the name
MrBeast
(formerly known as
MrBeast6000
), is an American YouTuber residing in Greenville, North Carolina.
He is currently known for doing a wide variety of expensive challenge videos that reward thousands of dollars, donation videos involving a lot of money, videos either with arduous tasks or survival, original vlogging videos and more.
He started this channel in 2012 at the age of 13. He was initially known for uploading the "Worst Intros" series, a series of videos where he laughed at kids with worst intros, but this series was entirely deleted because they don't reflect his genuine passion and personality later on. Over the years, as he gained more sponsor money, he became a lot more generous and helpful to others.
With unrelenting passion and devotion to finishing arduous, yet creative, challenges, Jimmy has become an extremely popular YouTuber in recent years, and one of the most subscribed non-corporate YouTube channels, having over 45 million subscribers as of middle October 2020. His main channel is the 23rd most subscribed channel in the world and the 10th most subscribed channel in the United States.
DID YOU KNOW THAT...

The godfather of Tucker, Chris's son, is Karl Jacobs?
Both MrBeast and MrBeast Gaming started with multiple Minecraft videos in a row?
MrBeast has more than 10 channels, of which several remained inactive?
Mark Pate, the $1,000,000 winner in the video "Last To Take Hand Off $1,000,000 Keeps It", has a YouTube channel called MANNTONICE?
Karl Jacobs started streaming on Twitch under the username GamerBoyKarl in 2017?
RULES
Here are some rules that you must follow, otherwise, you will eventually be blocked if the following rules weren't respected:
No spam allowed.
Respect everybody in this wiki.
No inappropriate content allowed in the masthead.
Do not attempt to engage in flame wars.
Do not ever vandalize an article. Any sort of vandalism will automatically result in a block without a warning (unless if accidental).
Add any missing information, when there is.
Make sure all grammar and spelling are correct.
No bullying or racism of any kind, if one does so, they will be blocked from this wiki.
If you followed all the rules, you won't be blocked, unless if you somehow attempted to forget the rules and break them. Anyways, happy editing!
DISCORD SERVER
Want to instantaneously chat and discuss about MrBeast and improving this wiki? Click the "JOIN SERVER" button to do so.
Featured video:
I Ate $100,000 Golden Ice Cream
I Ate $100,000 Golden Ice Cream is an expensive video created by MrBeast. In this video, MrBeast and the crew eat different types of expensive food, working their way up to the $100,000 ice cream. At times, random subscribers showed up and ate some expensive food for free.
Randomizer
Want to be surprised? Click the "ROLL THE DICE" button to land on a random page that you may have thought that never existed in this wiki before.
Discussions
Do you like MrBeast? Do you want to talk about him and his videos? Or do you simply want to share some fanart, fanmade videos or other media? Click "JOIN THE DISCUSSION" to talk with the community!
Community content is available under
CC-BY-SA
unless otherwise noted.