Welcome to the...
MRBEAST WIKI
Founded by DarkUnknownWarrior on February 13, 2018
Adopted by JustLeafy on October 2, 2020
  734 articles         1,260 files         13,867 edits
Make sure to read our rules then sign in to edit this wiki!
info   ABOUT THE WIKI
This is an encyclopedic resource of everything about MrBeast that anybody can edit! This wiki includes documentation on MrBeast along with his crew members, affiliates, YouTubers he collaborated with, projects, video plot summaries, challenge results, and more!
Note that we are not endorsed by MrBeast or any affiliates.
Pages for MrBeast's videos, especially the ones that are expensive challenges, contain results and spoilers, so read at your own risk.
Moreover, some articles (in particular, the ones about MrBeast's old videos) may contain strong or inappropriate language that is not suitable for younger viewers.
We are not here to document any private information of the crew (which is strictly disallowed for legal reasons), we're here to document the involvement of the recurring members of the channel (challenges, role(s), etc.), log results (especially in challenge videos), inform you about MrBeast's projects (Team Trees, MrBeast Burger, etc.), and more.
question   WHO IS MRBEAST?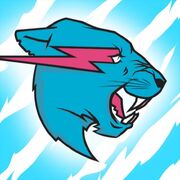 Jimmy Donaldson (born: May 7, 1998 (1998-05-07) [age 24]), mainly known by the name MrBeast (formerly known as MrBeast6000), is an American YouTuber residing in Greenville, North Carolina.
He is currently known for doing a wide variety of expensive challenge videos that reward thousands of dollars, donation videos involving a lot of money, videos either with arduous tasks or survival, original vlogging videos and more.
He started this channel in 2012 at the age of 13. He was initially known for uploading the "Worst Intros" series, a series of videos where he laughed at kids with worst intros, but this series was entirely deleted because they don't reflect his genuine passion and personality later on. Over the years, as he gained more sponsor money, he became a lot more generous and helpful to others.
With unrelenting passion and devotion to finishing arduous, yet creative, challenges, Jimmy has become an extremely popular YouTuber in recent years, and one of the most subscribed non-corporate YouTube channels, having over 45 million subscribers as of middle October 2020. His main channel is the 23rd most subscribed channel in the world and the 10th most subscribed channel in the United States.

READ MORE
question   DID YOU KNOW THAT

The collective consisting of Jimmy, Chris, Chandler, and Karl, is called the "Beast Gang"?
MrBeast helped a lot of struggling restaurants by buying them and make them work for MrBeast Burger?
MrBeast has invested two million dollars into helping smaller creators?
Even though Jake Weddle claimed he quit MrBeast, he made a comeback in "Make THIS Shot, Win $300,000"?
Beast Interactive, the technology team behind MrBeast who made Finger on the App, is making another mobile game, which is longer? (as said in the Colin and Samir interview with MrBeast.)